100% Goji Berry natural nutrition eyes tonic (100 capsules)
Goji Berry / Wolfberry 100 capsules
Description:
High Quality of Goji Berry. All capsules contains 100% Goji Berry (no steroids or preservatives adding).
Natural nutrition eyes tonic to improve visibility and increase body antioxidant.
New with sealed from manufacturer.
Fact about Goji Berry:
Goji Berry contains many nutrients and phytochemicals including:-
11 essential and 22 trace dietary minerals.
18 essential amino acids for body.
6 essential vitamins
8 polysaccharides and 6 monosaccharides
5 unsaturated fatty acids, including the essential fatty acids, linoleic acid and alpha linolenic acid.
beta-sitosterol and other phytosterols
5 carotenoids,including beta-arotene and zeaxantine, lutein, lycopene and crytoxanthin.
numerous phenolic pigments (phenols) associated with antioxidant properties.
also contain numerous phytochemicals like Beta-carotene, Zeaxznthin and Polysaccharides.
Thai FDA Registration Number:  G 249/45
Dosage: Take 2 capsules before meal (morning & evening).
Quantity: 1 jar (100 capsules)
Net Weight: 25 grams (250 mg. per capsule)
Warning:  Store in a cool, dry place. Keep out of the reach of children. Do not use if you are pregnant, may become pregnant, or breastfeeding. Consult your physician before use.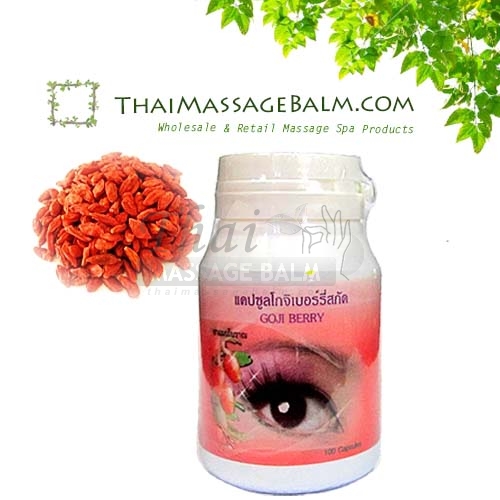 See all >> Herbal Supplements
sponsered link: www.greetingstuffs.com